2019 Passport to Fashion Fundraiser was huge success!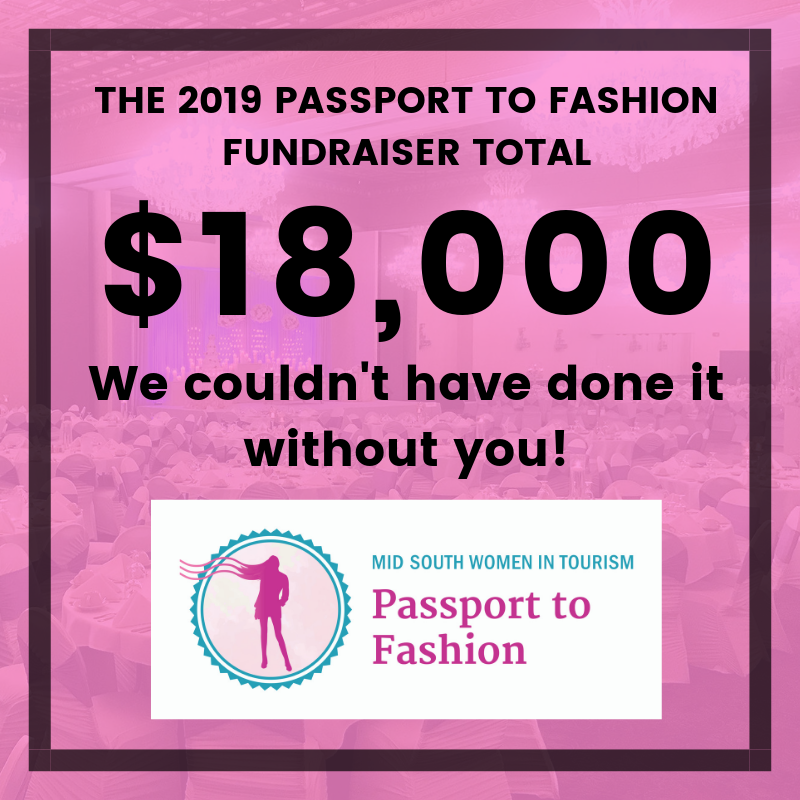 Mid South Women in Tourism (MSWIT) held its "biennial" fundraiser on Saturday, September 7 at Copeland Tower & Suites in Metairie. We are so proud to say there was a record attendance resulting in over $18,000 raised to support the Cancer Association of Greater New Orleans, the New Orleans Family Justice Center, Heartbeat NOLA by purchasing a defibrillator and to aid a University of New Orleans HRT Master's student with a small scholarship.
The fundraiser featured a fashion show sponsored by Stein Mart, a Travel Marketplace with tourism vendors from around the State of Louisiana with the opportunity to win tickets on Jet Blue by simply completing your "passport". In addition to a great lunch served by the host hotel, there was a Parade of Prizes of more than 40 packaged fabulous gifts and getaways and a bottomless martini and mimosa bar!
There were also appearances and support by local leaders, Louisiana Lt. Gov. Billy Nungesser, Councilwoman Jennifer Van Vrencken and Councilman Dominic Impastato and Former Parish President John Young.
Jill Kidder. President of Louisiana Travel Association and our 2017 inaugural Woman of the Year award recipient, presented and accepted the award for our 2019 Woman of the Year, Governor Kathleeen Babineaux Blanco for her many years of public service for Louisiana serving two terms as Lt. Governor and then her term as Governor which got us through the tragedy of Katrina. She was instrumental in restoring the Superdome which helped the rest of the city "get back" in so many ways!
Additional sponsors for the event included Fidelity Bank, Councilwoman Cynthia Lee Sheng, Louisiana Seafood Marketing, Louisiana State Rep. Debbie Villio, Louisiana State Rep. Kirk Talbot, University of New Orleans Hotel, Restaurant and Tourism Administration, Von Mack Agency, P & N, Miles Partnership, Port of New Orleans, Stein Mart, Jet Blue, Show Time Rentals and Compucast Web.
Special thanks goes to our dear friend Lou Ann with Jet Blue, Gina Brown for our fabulous entertainment (sponsored by Sharon Henry of NOFJC), Tico Soto for being such a great Emcee, Judy Weitz for her graphic talents in producing the program and marketing materials, Betsy White, our fashion show expert from Stein Mart, Aimee Car with Voodoo Makeup, and hair stylists Dane Andrade-Castille and Biba Neville for helping our models all look their absolute best!
With all this said, the event would not have taken place without the hard work of our core Fundraiser Committee, including
Jan Dressler -- Co Chair - 2019 Passport to Fashion Fundraiser
Kate Wendel -- Co-Chair - 2019 Passport to Fashion Fundraiser
Abby Trauth - Music Mix, TV spokeswoman, plus much more!
Martha Martinez - Sponsorships
Bobbi Mannino - Ticket Sales & Registration Desk
Sandra Dartus - Fashion Show
Nancy Weinstock - Parade of Prizes
Peggy Benoit -Travel Partner Marketplace
Shannon Hamm - Martini/Mimosa Bar
Debbie Boudreaux - Table Centerpieces
Tanya Leader - Charities Liason & Registration Desk
Denise Thevenot - Swag Bags
Plus the many MSWIT members who gave up their time to be models for the Fashion Show and to all who donated items for our Parade of Prizes and Swag Bags...
And to all who attended this fabulous event and helped make this fundraiser a huge success!
###